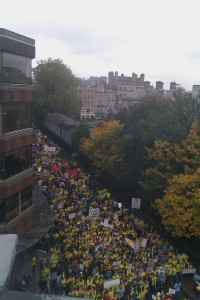 An estimated 25,000 students are expected to be taking part in protests against the government's proposed increase of third-level fees.
Not sure if they got the predicted numbers but there's a pretty good turn out all the same.
The pensioner's protest still wins for sheer volume though.
Favourite placard spotted read as follows:
"I'm too stupid to immigrate"
First of many before next month's budget?
*** Edit at 13:54 ***
Students still making their way to the Dáil – this is possibly the biggest protest I've ever seen
*** End edit ***