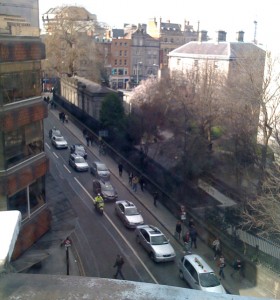 Members of the Irish Taxi Council are staging a protest at the moment around the country.
In Dublin, participating taxis are refusing to take passengers until around 3PM. They have promised not to engage in any illegal activity like last week when they blocked the Luas tracks on the northside and closed O'Connell St to traffic as a result during rush-hour.
The protest route will see drivers on a 'go-slow' from Parnell St to Kildare St where they will loop back to Parnell St via Molesworth St and Westmoreland St.
An all-out stoppage of taxi services from ITC members is planned for Monday next.
Protest counter hits a lovely round number of 20 just over a year since launch.