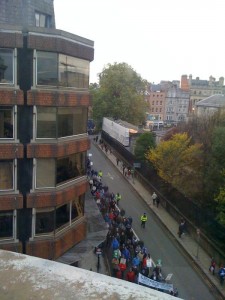 According to the Irish Times, around 3,500 off-duty frontline services workers from the 24/7 Frontline Services Alliance marched from Parnell Square to Dail Eireann where they handed in a letter expressing concern over potential cuts in pay, allowances and changes in working hours for frontline public service workers ahead of next month's budget.
Members of the protesting group included Gardai, nurses, fire fighters and prison officers.
Led by a marching band, the protest passed quietly and almost unnoticed.
My demo counter hits 16.
To find out more about the FSA here's a quick video they've published online:
Frontline Services Alliance from DCTV on Vimeo.