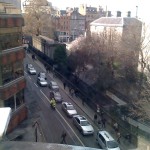 This morning the unofficial action taken by drivers at the Harristown depot really hit me and many other commuters north of the Liffey with few services coming from the Harristown depot. Dublin Bus have just updated their site with information on which routes are completely halted during the strike and which services have a 'curtailed peak service'.
Routes that are currently not operating:
4, 4a, 13, 13a, 17a, 27b, 33b, 40a/b/c/d, 83, 102, 128, 140, 142, 237, 238, 239, 270.
Routes with a curtailed peak service:
27x, 37, 37x, 38a/b/c, 39, 39x, 41, 41x, 43, 70/a
Keep an eye on the Dublin Bus website for more info but for now, keep a pair of comfy shoes handy

According to the Irish Times, business lobby group Ibec yesterday criticised the drivers and suggested the Defence Forces be drafted in to drive the buses.
Meanwhile, taxi drivers are out in Dublin city centre making a lot of noise driving around and blowing their horns. According to the Taxi Drivers For Change website, it's their 11th protest to date.
Counter goes up 2 today.